In order to support different types of operations throughout the whole store, warehouse or back office, we have developed the application on portable data terminals. The latest version of the application is designed to run under Windows Mobile. It allows you to work either in batch mode, in which the exchange of data takes place only after the terminal is inserted in the docking station, or in the online mode, in the case of stores equipped with Wi-Fi infrastructure.
The Market program, which cooperates with the application on portable data terminals, manages both the application version and Wi-Fi network certification, as well as allows you to enable or disable certain functionalities when it is needed – e.g. during the inventory.
The application provides the following functions:
order processing to the Distribution Center and to direct suppliers,
receipt of delivery from the Distribution Center and from direct suppliers,
goods return to the Distribution Center and to direct suppliers,
inventory of goods,
validation of labels and printing labels (this feature can be performed automatically while handling other operation, such as order creation,
creating various documents such as internal spending, liquidations
support for transfer of goods between stores,
registration of the commencement and completion of employees' work
Excerpt from the application main menu and the sample of order processing window: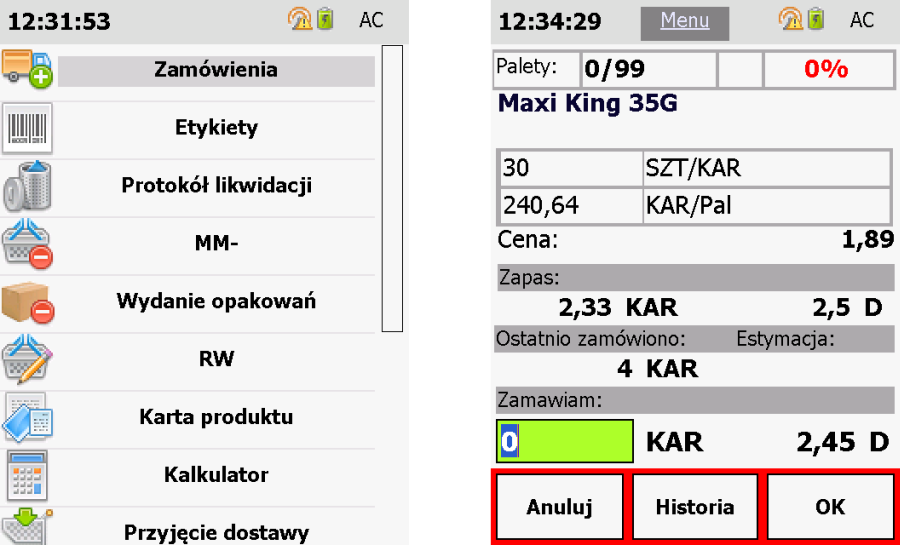 An important advantage of the portable terminal application is the possibility to handle a variety of contextual functionalities. For example, while creating the order, the employee can also generate the liquidation protocol for the scanned item and its' specified quantity, if the employee has stated that they are damaged.
The application's operation on the portable data terminals is customized to the specific requirements of each chain of stores. For example, receipt of delivery from the Distribution Center can be reduced to scanning the numbers of pallets or may require counting of all goods (in this case, the application allows for receipt of individual pallets - so that several people can work simultaneously during the receipt of a large supply and verify the different palettes).
Most exceptional function of the application is that it supports the creation of orders "off the shelf". An employee who creates the order, regardless of whether the portable data terminal operates in the batch or online mode, sees not only all necessary information about the scanned product (the name, the conversion for collective packaging and ordering units, current status in terms of sales units and days the amount of the last order, the amount of the proposed order calculated by the Market program), but can also view historical data of the goods: the history of orders, the last date of sale and sales history (with an indication of the promotion periods).
Another significant feature available when creating orders is the calculation of pallets filling (or containers) and the car filling, which optimizes the transport costs.