In stores with high seasonality of sales, there is a problem with shortening overly long queues during periods of increased sales. In such stores it is often irrational to install too many permanent POSes due to the cost of their purchase and the space they take up. The solution to reduce queues at these stores is the mobile POS.
In our solution the mobile POS is available in two versions:
half-mobile - where the fiscal printer, PIN pad and the cassette for money (optional) are usually installed on the mobile stand (it can be an adapted trolley)
portable - where all devices are carried by the salesperson/cashier.
The portable version is used at points of sale, where customers usually buy single goods (or services) that you do not have to pack, and that do not have anti-theft devices.
The half-mobile version is used in stores where goods require packing into bags, where the customer buys more goods or where the place of payment must be at the exit of the store to make sure that the customer definitely paid for purchases.
The configuration and operation of the mobile POS can vary in solutions for each customer, depending on the specific requirements. In each of the variants the main element of the mobile POS is a tablet. Other features include: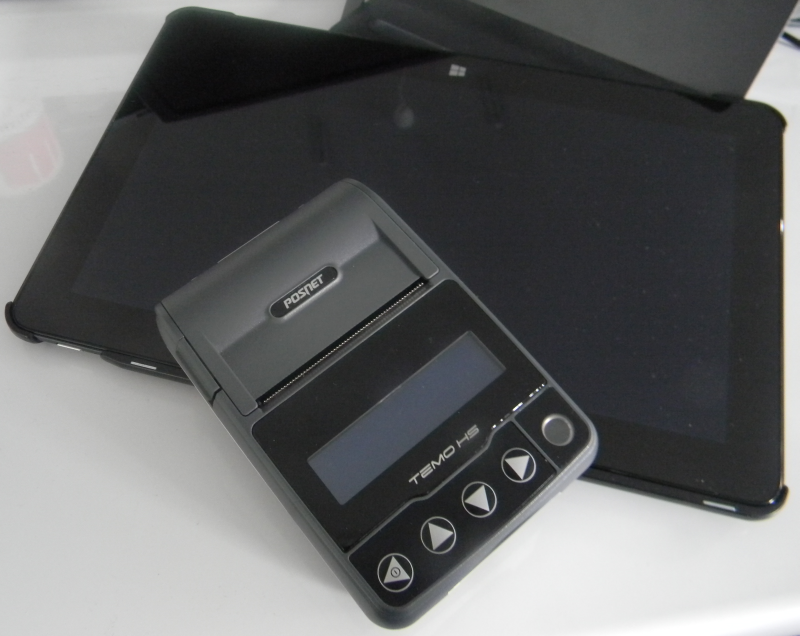 fiscal printer – it could be a standard printer (such as other printers installed in the store, so you can move them between stands and do not have to keep paper supply of different kind), but equipped with a LAN interface; it can also be a portable printer carried by the cashier, communicating with the tablet via Bluetooth,
barcode reader – depending on the number of goods, the camera from the tablet can be used (or the integrated imager, if you use a specialized tablet), wired scanner connected to a tablet docking station or wireless scanner that communicates via Bluetooth,
PIN Pad – may be a standard device (like at the standard checkouts), connected to the tablet docking station or a portable device, equipped with a rechargeable battery, with wireless communication (usually Wi-Fi).